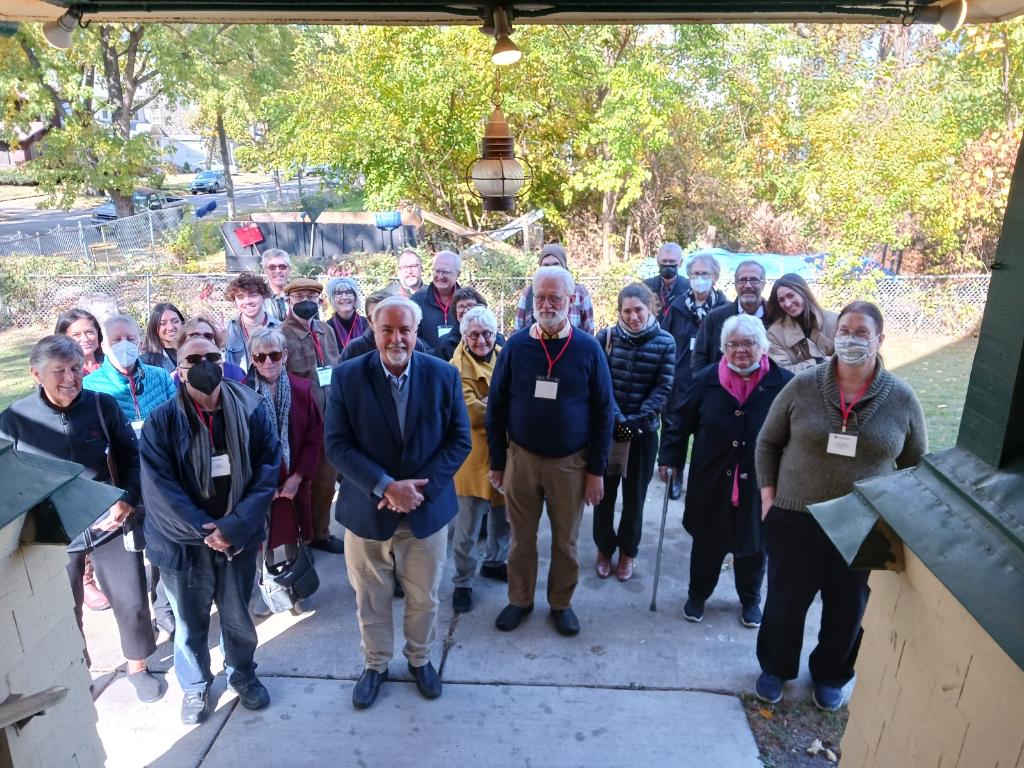 Ward Miller has been working closely with James Glover, a childhood friend and the new owner of the Frank Lloyd Wright designed Foster House to manage the excitement over a newly accessible Frank Lloyd Wright home. We applaud James Glover, his mother Jeanette Miller, and sister Darra Miller (no relation to Ward Miller) for taking on this wonderful project and will continue to assist at every step of the restoration process of this magnificent home by one of the world's most famous architects.
On October 14, 2022, Ward helped to arrange a site tour of the Foster House with Frank Lloyd Wright scholars and experts. As the Foster House was desgined early in his career and because much of the original finishes remain, this tour was fascinating for the scholars and provided important guidance before the restoration is undertaken. Many interesting items were noted, including discovery of the original green trim stain color on a pair of pocket doors long obscured by carpeting.
Ward Miller and Preservation Chicago also helped to arrange a pair of Foster House site tours on October 19, 2022 as part of the Frank Lloyd Wright Conservancy's annual conference. The excitement of Frank Lloyd Wright enthusiasts was palpable as the buses rolled up to a home, long hidden from the Frank Lloyd Wright community.
"Sitting on nearly a half acre of land, the 120-year-old faded yellow home, known as the Foster House and Stable, located at 12147 S. Harvard Ave., features steep roof peaks — something that wasn't necessarily common in Wright's designs — and has five bedrooms and three bathrooms. Its immense yard is like a grassy oasis, with two koi ponds and a water fountain, buyer James Glover said.
"The home, which has a Japanese-influenced style to it, was 'an important part of the development of Wright's influential architectural style,' according to the Chicago Landmarks website. The home and its stable was originally built in 1900 as a summer home for Stephen Foster, a real estate attorney who worked with developers around the West Pullman neighborhood, the website said. The stable has since been converted into a three-car garage, Glover said.
"In 1996, the property was declared a Chicago landmark, and it's one of more than 40 Wright-designed buildings that remain in the Chicagoland area today, according to the Frank Lloyd Wright Trust.
"He described the property as a 'fixer-upper' and hopes to restore the place to its original beauty.
"'I have a friend, his name is Ward Miller…he's the executive director of Preservation Chicago. He said that this house is like a Picasso or a Rembrandt [painting], and you have to be a conservator of the house, which is what I intend to do,' said Glover, 60.
"'It's hard to touch a Frank [Lloyd] Wright for less than about a million,' said Glover, who noted a Wright-designed home in Phoenix that recently sold for a reported $7.25 million. 'So I feel like we got lucky on this one.'" (Kenney, 9/14/20)