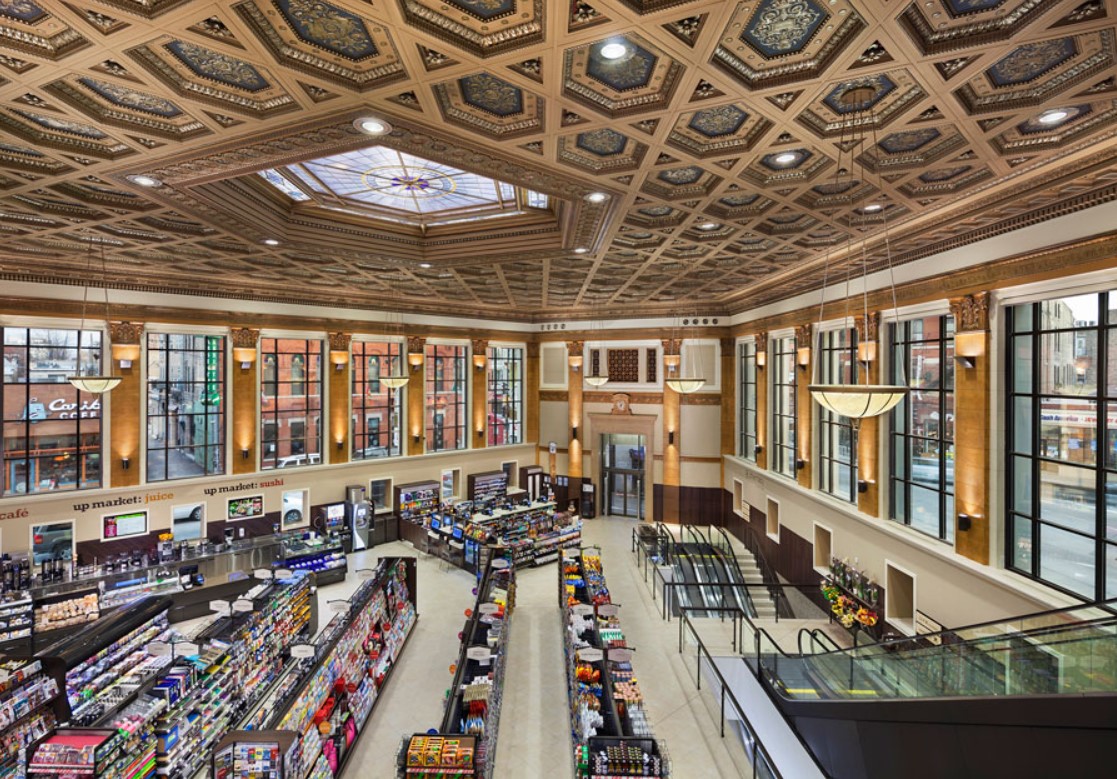 "The shelves are barren, the Vitamin Vault is half-empty and the remaining employees are mopping and cleaning up as Walgreens prepares to close its flagship Wicker Park store Tuesday.
"For the past decade, the drugstore and pharmacy has operated out of the landmark Noel State Bank building, 1601 N. Milwaukee Ave., in the heart of Wicker Park. It's become well known for its ornate interior and repurposed bank features — including the Vitamin Vault, which stores rows of vitamins in the former vault in the building's basement.
"A music teacher at nearby Drummond Elementary, Sean Rholl stopped by the store with his class of seventh and eighth graders. The students took selfies in the Vitamin Vault and then all posed for a picture that Rholl took from the upstairs mezzanine, under the vaulted ceiling.
"'I said, 'You've got to check out the vault and the ceiling and just how life could be this beautiful,' and now they're taking that away.'
"The Noel State Bank building was constructed in 1919 and was home to various banks throughout the 20th century, according to a 2007 report from the Commission on Chicago Landmarks. Since the building is part of the landmarked Milwaukee Avenue District, the city will require future tenants or owners to preserve its historical features. Walgreens opened the store in 2012 after two years of restorations.
"The employee said she's only worked at the store since last summer, but specifically requested to work at the location because of its historic architecture. 'I hopefully think they will actually put something in place of the Walgreens and not let the building just go abandoned,' she said. 'This is one of the great buildings, they've got the vault and the architecture is just so beautiful. I'm kind of sad that a lot of people won't be able to come in and see it.'
"Since the news broke about the store's closure in December, the employee said the store has been inundated with visitors taking pictures, making TikToks and even a few people who came to draw sketches of the interior.
"'There's a lot of different types of people that usually come in, with different types of accents. People from all over the world, just to visit and see how great it is,' she said. (Myers, Block Club Chicago, 1/31/23)
Preservation Chicago played an important leadership role in the creation of the Milwaukee Avenue Chicago Landmark District, which includes the Noel State Bank.